FAST BLAST FREEZER DOORS
FROZEN IN TIME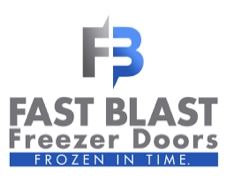 Steelworks Manufacturing's patented FAST BLAST doors provide reliable and safe operation in extreme environments.

These doors are the only rolling product designed and manufactured specifically for the Blast Cell Application. With 25 years in the door industry, we know the biggest problem with other freezer doors is frost build-up, which results in damage, costly loss of containment, inconsistent freeze times, and expensive service calls. Avoid these hassles with the Frost Guard Brush System, a simple but effective solution for your freezers.

The patented Frost Guard Brush System performs every time the door is in motion, and without the need to introduce massive amounts of heat onto the door and into the freezer.
OUR FAST BLAST FREEZER DOORS PROVIDE RELIABILITY
No matter how extreme your environment is, our FAST BLAST Freezer Doors provide consistency to your product freeze times! So if you're looking for a dependable fix to the most profitable part of your business, choose these doors. They are safe, consistent, profitable, and able to withstand the coldest temperatures.
DOORS FOR ALL INDUSTRIES
Steelworks Manufacturing's doors are suited for your facility. Whether you're running a medical, food, or manufacturing facility, we can customize the door to your standards. Our team specializes in creating and installing aluminum, steel, and carbon doors. Members of our crew can assist you in finding the right solution.

Contact us today to learn more. We are taking messages through the form below or by phone at (984) 300-0876.